Walsall in brief
---
This page provides statistics to give a picture of Walsall 'at-a-glance', with some choice statistics selected to give a flavour of the composition of, and challenges faced by, the borough as a whole
Population
---
Walsall's population is estimated to be 285,500 (ONS, mid-2019). The below shows the distribution of Male & Female by age group against the UK average: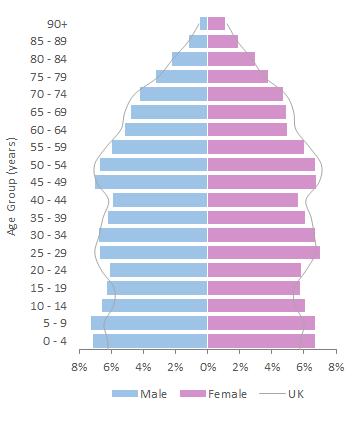 Ethnicity
---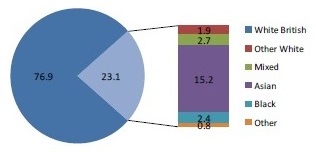 As of the 2011 Census, there has been a significant increase in the level of ethnic diversity in Walsall over the past decade. While 'White British' remains the largest single group, at 76.9%, the number of residents from a minority ethnic group has risen to almost 1 in 4 (23.1%).
Life Expectancy
---
Life expectancy at birth is a good indicator of the health of a population. In Walsall life expectancy is higher in woman (82) than men (77.2).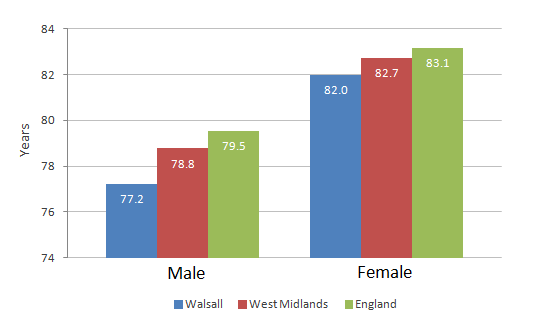 Healthy Life Expectancy
---
Healthy life expectancy at birth shows us the number of years lived in 'good health'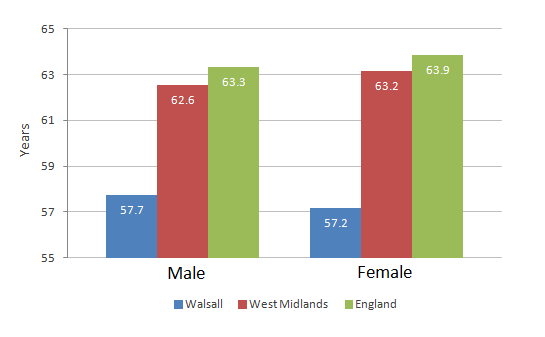 Occupation
---
Walsall residents are employed across all different types of occupation. The greatest number work in skilled trades occupations, accounting for 13.7% of those who are economically active and higher than the 11.5% across England and Wales overall.

Unemployment
---
6.0% of the working age population claim Jobseekers Allowance (Dec 12).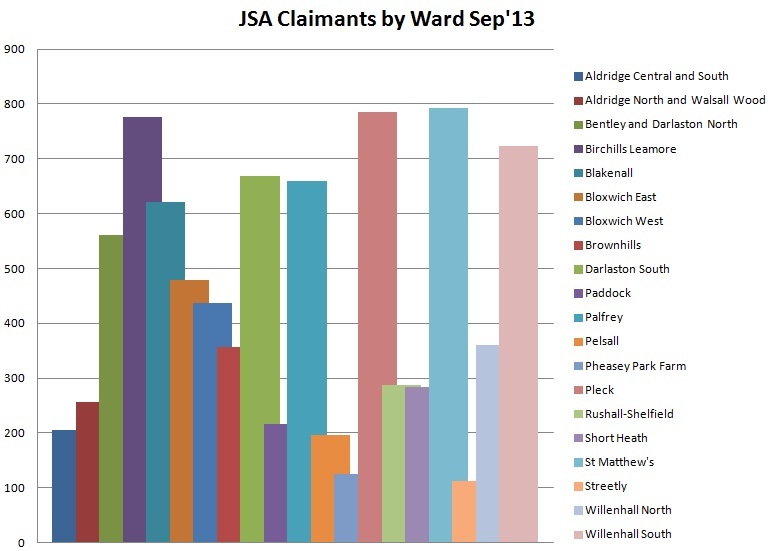 Households
---
There are 107,822 households (with at least one usual resident) in Walsall. This is an increase of 6,500, or 6.4% since 2001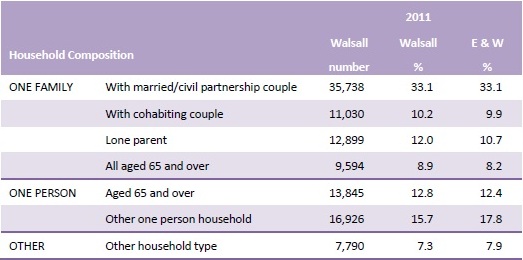 Environment
---
Walsall has 535 green spaces covering over 2,160 hectares which makes up nearly 25% of the total area of the Borough. Much of Walsall's green space is natural and semi-natural which accounts for 45% of all green space by area. Parks and Garden cover over 200 hectares, nearly 13% of all green space by area.