Joint Strategic Needs Assessment
---
What is a JSNA?
A Joint Strategic Needs Assessment (JSNA) is the means by which the local health economy, local authorities and third sector organisations work together to understand the future health, care and well-being needs of their community. The JSNA aims to support action to improve local people's wellbeing by ensuring that services meet their needs. It is designed to inform and drive future investment priorities and thereby help to plan services more effectively.
What are the roles of the Health and Well Being Boards?
The Health and Social care Act 2012 establishes health and wellbeing boards as a forum where key leaders from the health and care system work together to improve the health and wellbeing of their local population and reduce health inequalities.
Amongst other duties, the Boards will bring together clinical commissioning groups and councils to develop a shared understanding of the health and wellbeing needs of the community. They will undertake the Joint Strategic Needs Assessment (JSNA) and develop a joint strategy for how these needs can be best addressed. This will include recommendations for joint commissioning and integrating services across health and care.
Chapter 1 - Health and Wellbeing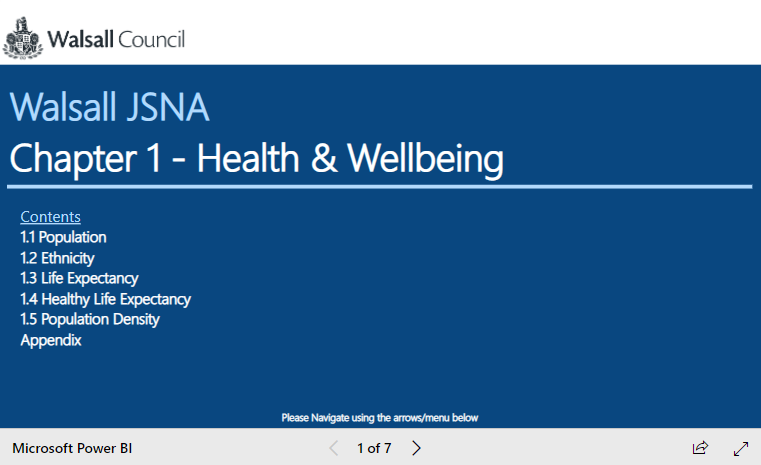 This chapter contains information about Walsall's Population, Ethnic composition, Life expectancy, Healthy Life Expectancy and Population Density.
Chapter 2 - Healthy Start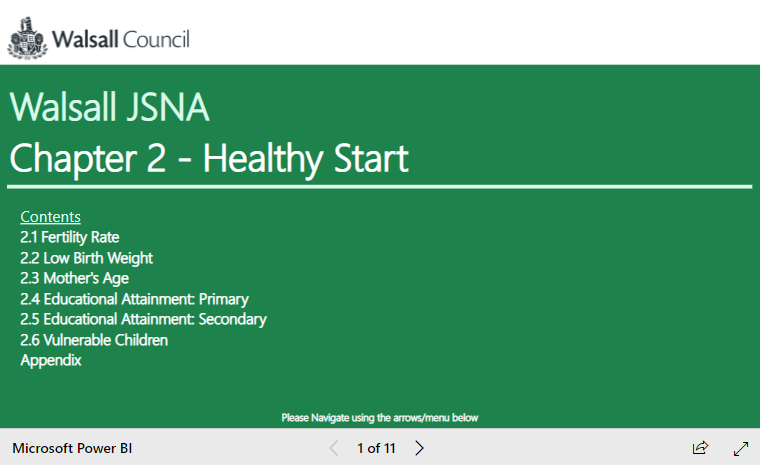 This chapter contains information about Child Birth and Child development in Walsall, through Fertility Rates, Birth Weight, Mother's Age, Educational Attainment and Vulnerable Children.
Chapter 3 - Adult Wellbeing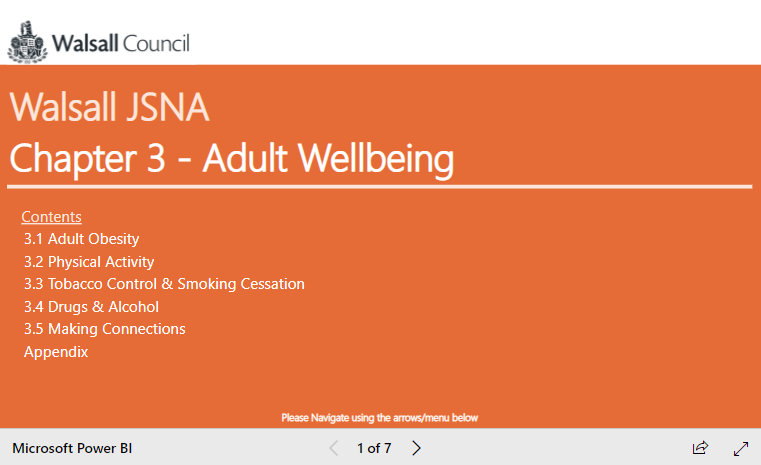 This chapter contains information about the wellbeing of Walsall Adults through Obesity, Physical Activity, Smoking Cessation, Drugs & Alcohol and Walsall's Making Connections service.
Chapter 4 - Ageing Well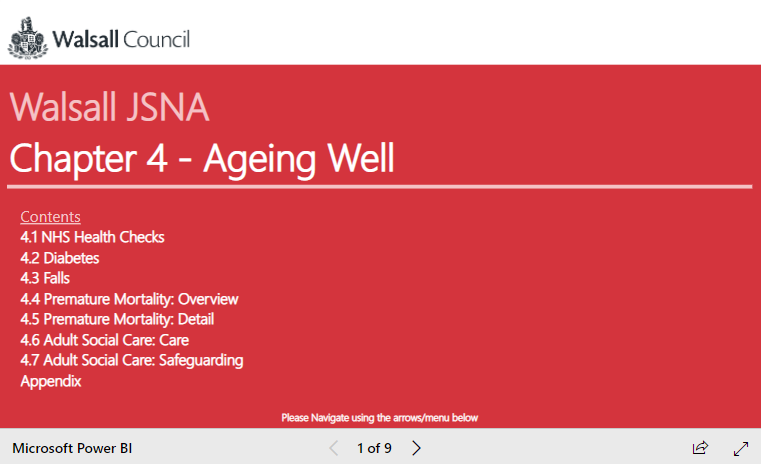 This chapter contains information about Walsall's population maintaining healthy lives as they age, by looking at NHS Health Checks, Diabetes, Falls, Premature Mortality and the Safeguarding and Care for vulnerable residents.
Chapter 5 - Place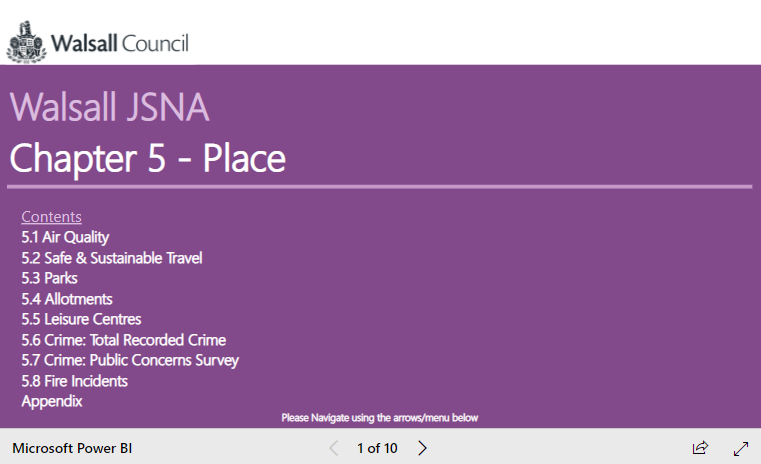 This chapter contains information about Walsall as a Place, through Air Quality, Safe & Sustainable Travel, Parks, Allotments, Leisure Centres, Crime & Fire statistics.
Chapter 6 - Housing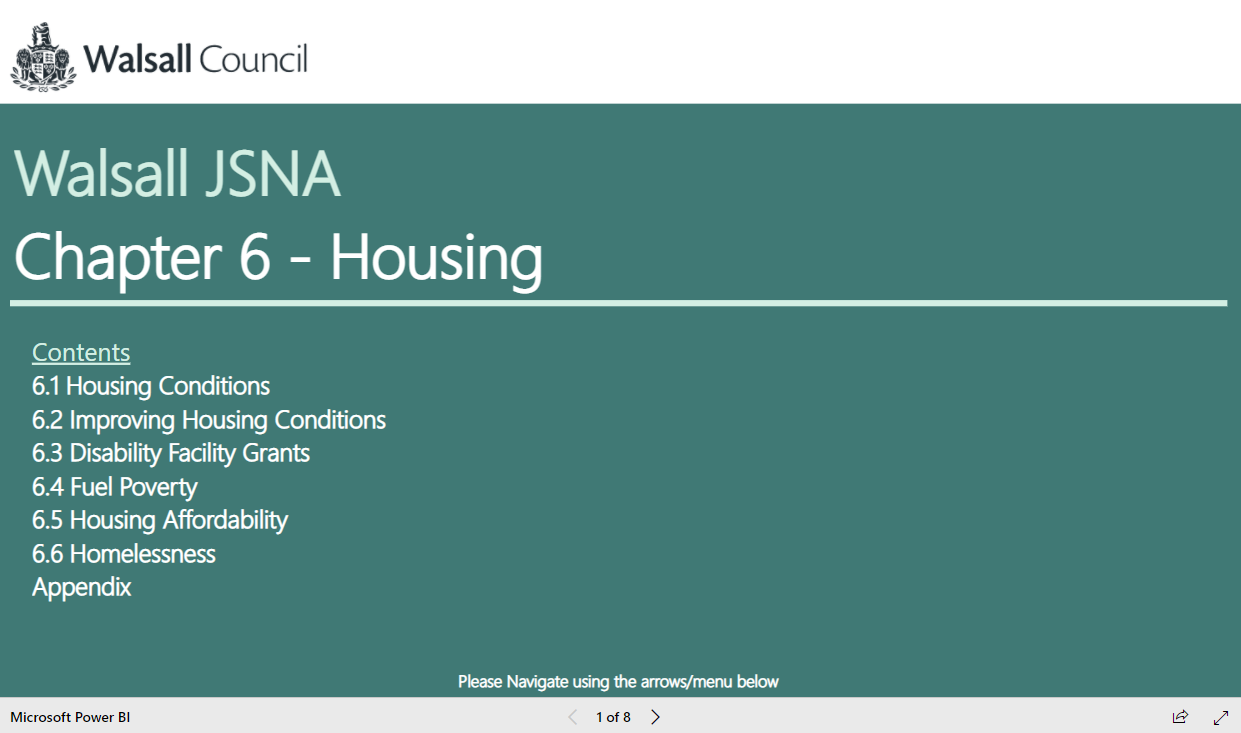 This chapter provides an overview of Housing in Walsall, including sections on Housing Conditions, Disability Facility Grants, Fuel Poverty, Housing Affordability and Homelessness.
Supplementary Chapter 7 - COVID-19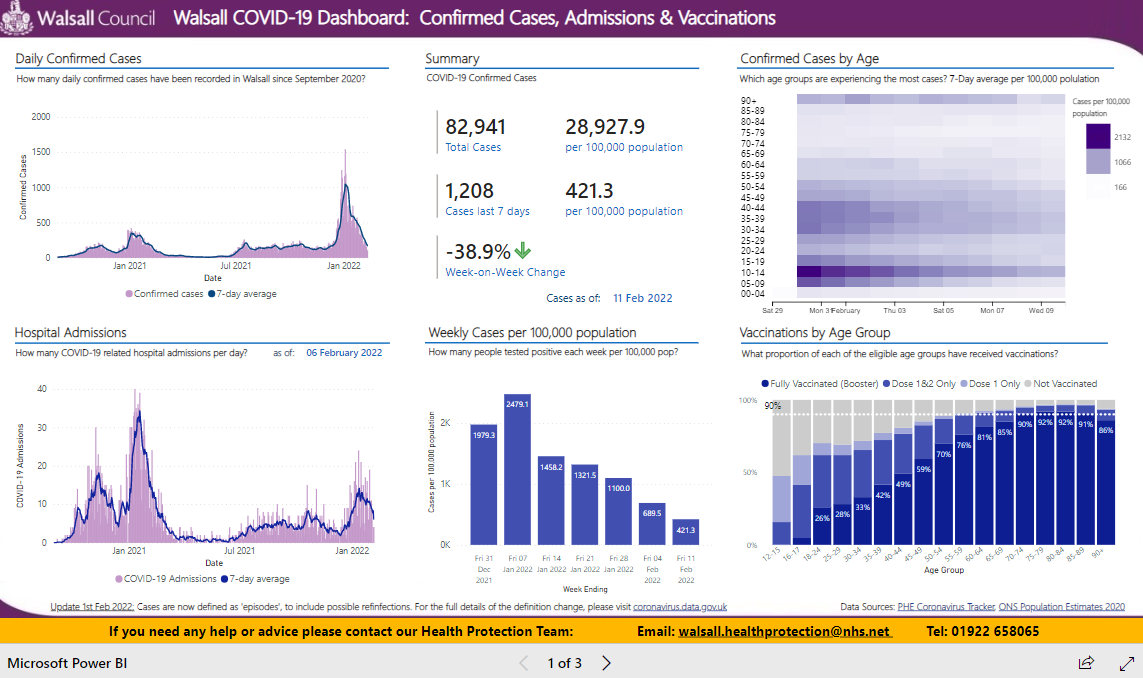 The COVID-19 dashboard provides figures on COVID-19 in Walsall during the pandemic. It includes the number of positive cases, tests carried out, deaths of people within 28 days of a positive test, admissions to hospitals and intensive care units as well as COVID-19 vaccination rates in Walsall.
View Chapter the COVID-19 Dashboard
Please note: this dashboard is no longer refreshed and is kept only for historical reference.
The latest statistics for Walsall can be found through the National COVID-19 Dashboard.